Stockhouse Metals and Mining savvy investors are well aware that the Platinum Group Metals (PGM) market has been on a rollercoaster ride due to the global semiconductor shortage. But industry analysts believe that of all the metals in this 'exclusive club', palladium has the best chance of rebounding from a rapid sell-off of precious metals used by the auto industry.
In fact, no later than October 12e, palladium prices saw a technical rebound and, as CNBC reported, "Palladium rose 1.6% to $ 2,110.93 an ounce, with analysts attributing the rebound to short hedging after the recent declines, while platinum was last down 1.8% to $ 1,008.17, after peaking two months earlier. "
So even though the price of palladium has fallen by almost $ 1,000 an ounce, shareholders and investors should see this as an investment opportunity rather than a problem. And the simple reason for the drop in prices is that automakers have had to cut back on production because they can't get enough chips to build the number of cars they want. And more palladium goes into cars. As a result, they bought less palladium and the price fell.
But this is where value and opportunity come together in perfect harmony.
Enter Generation Mining Ltd. (GENM) (TSX.GENM, GENMF, Forum) – a young start-up exploration company currently developing the large Marathon Palladium-Copper project in northwestern Ontario. Gen Mining currently owns an 82.6% stake in the Marathon Project, with the remaining stake held by Sibanye-Stillwater (SBSW).
In the two short years since Generation's acquisition of the Marathon project, it completed a very solid Preliminary Economic Assessment (PEA) in January 2020, followed by a feasibility study in March 2021. Along the way, mining luminaries Eric Sprott and Lukas Lundin have acquired important positions in the Company.
Most of the demand for palladium is for automotive catalysts in cars, which remove toxic emissions from exhaust gases and therefore make our air much cleaner. As the company puts it, as part of its motto, "Green metals for future generations. & CloseCurlyDoubleQuote;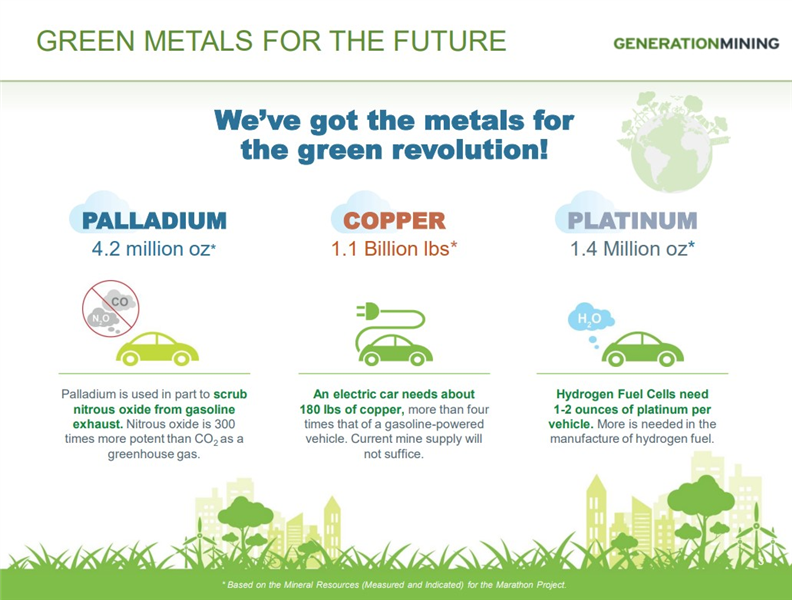 (Click on the image to enlarge)
The Company published the results of the feasibility study on March 3rd, 2021 and released Technical Report NI43-101 dated March 25, 2021. The Marathon property itself covers a large area of ​​land of approximately 22,000 hectares, or 220 square kilometers.
A recent feasibility study estimated a net present value (NPV) of around C $ 1.07 billion with a payback of 2.3 years at conservative metal prices.
Today, the Marathon project is the largest undeveloped palladium project in North America, with an easily accessible location along the Trans-Canada Highway in Northwestern Ontario. Approximately 58% of the project's revenue will come from palladium and an additional 26% from copper – based on prices of US $ 1,725 ​​per ounce for palladium and US $ 3.20 for copper. The remaining income will come from platinum, gold and silver. Operating costs are estimated at US $ 687 per ounce, while overall costs are estimated at US $ 809 per ounce. The project will produce an average of 245,000 ounces of palladium equivalent per year.
Today, about 85% of palladium ends up in car exhaust systems, where it helps transform toxic pollutants into less harmful carbon dioxide and water vapor.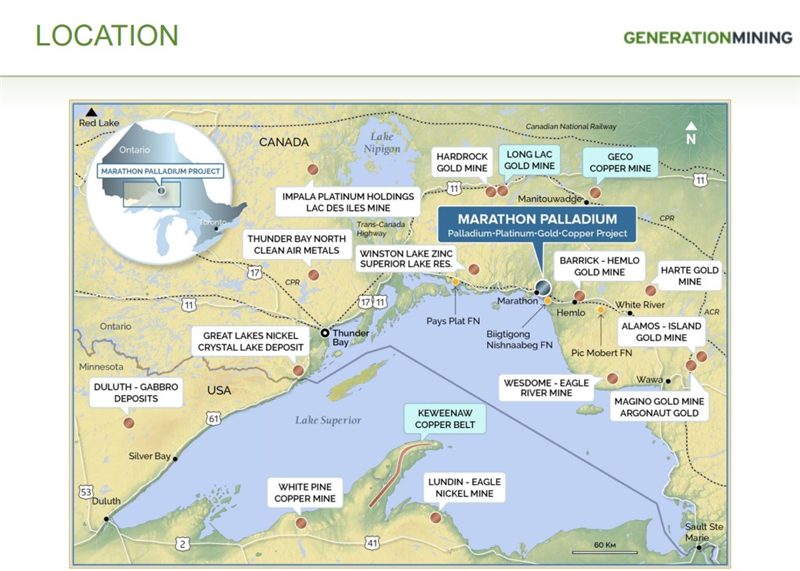 (Click on the image to enlarge)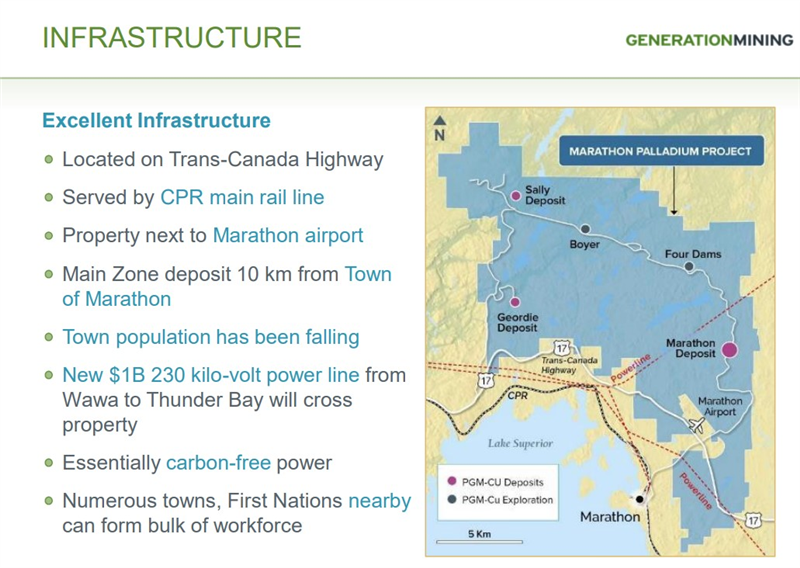 (Click on the image to enlarge)
In the news
October 13e, GENM announced that Wood, one of the world's leading consulting and engineering companies, has been awarded and has started process plant engineering and long-term procurement (EP services) for the project Palladium-copper marathon. At the same time, it was also announced that Paul Murphy, an engineer with a long history of mine construction, had joined the company's management team.
Jamie Levy, President and CEO of Gen Mining, said:
"This study confirms that the Marathon Palladium and Copper project is a substantial mining project that should provide a very robust return on investment. We expect the supply of palladium in particular to remain in deficit for the foreseeable future as Europe, China and other regions apply more stringent emission standards. We are thrilled with the opportunity to create jobs and stimulate the economy in Canada, Ontario and the communities surrounding Marathon. "
In early September, Generation Mining announced exciting results from the first three holes drilled in the Chonolith area, immediately north of the Marathon palladium-copper deposit in northwestern Ontario. As with the recently completed work on the central feeding area (see the 2021 press releases of January 27e, May 10e, and August 17e), current exploration activities are focused on assessing the potential for additional resources that could potentially extend the life of the proposed operation in the future.
The September results were particularly positive as they indicated several high grade intersections, including a 46 meter interval of 1.01 grams per tonne of palladium and 0.46% copper from 50 m to 96 m downhole.
Investors Corner: View from the C-Suite
Stockhouse Editorial met with Kerry Knoll, Executive Chairman of Generation Mining & CloseCurlyQuote; to discuss the latest events for the company and what investors can expect from the company in 2022 and beyond.
SH: Can you inform our investor audience and your Generation Mining shareholders of any further development of the business, especially in the aftermath of COVID-19?
KK: We've been hard at work throughout the pandemic. It didn't hurt to be at the stage where most of the work was office type which was perfect for people working from home.
SH: How does a palladium coin resonate with our investing audience – primarily retail?
KK: It was a bit difficult to get the point across, but when people understand what we have here, they are often positively surprised. One of the problems is that it's a very small market in terms of producers, developers, and even explorers, so there are few companies we compare to. We think we should be compared to a base metals company, but with a touch of precious metal. Another of the problems seems to be that most of the palladium goes into just one thing: catalytic converters in automobiles. Since this is more or less legislated for use in all gasoline-powered automobiles in the world, the commodity has a guaranteed customer. And new supply has been below demand for over 10 years now.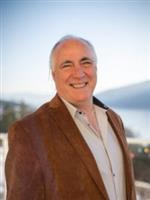 SH: For the company's shareholders and potential investors, what kind of future development and progress can we expect from your flagship Marathon project?
KK: Next year should bring us to start construction of the mine. The events leading up to this include obtaining environmental assessment approval from the federal and provincial governments, followed by our various permits. We will also have a head start on the detailed engineering that we need to do before construction begins. Organizing the funding for this work as well as the construction itself is also a big part of what we are doing now.
SH: You have a series of fundraising events coming up. Can you take us through them?
KK: We would like to raise around C $ 50 million to complete the engineering, the permits and start ordering some of the equipment. We have a number of non-binding proposals on hand and are evaluating them right now and hope to announce non-dilutive funding in the near future. The announcement may also include part of the financing of the production. Once that's done, we'll work on the rest of the mining finance, which could include a mix of streamers, royalty companies, private equity partners, smelters, and other types of lenders.
SH: What can you tell our investing audience about the current valuation of your stock and why you think it's still a good buy right now?
KK: A typical mining company at the feasibility stage would trade between 50% and 100% of its present net present value. On the high end, the companies usually have the funding and the permits in place, which we don't have yet, but they're on the horizon. Our current market cap is just over $ 100 million, and that for our 82.4% stake in a project with a net present value of over $ 1 billion and we are trading around 10% of our net present value.
SH: It's not just a palladium mine; you also have other metals, especially copper. How does this help the economy?
KK: About 40% of our revenue in the feasibility study comes from metals other than palladium, mainly copper and platinum. Copper will be a big contributor. At the current price of copper ($ 4.68 / lb), it pays more than all operating costs, leaving the costs of producing platinum and palladium virtually free. If any of the copper price predictions come true, they could at some point exceed palladium revenues.
SH: Can you tell our audience a bit about your recent additions to the corporate leadership teams, as well as the experience and innovative ideas they bring to the exploration space at PGM?
KK: We've been building teams all year round. A few weeks ago, we announced two key hires on the ESG side, Cathryn Moffett, who was in charge of sustainability at Detour Gold and Jeremy Dart, who has spent the last 20 years as an environment in the great mine of gold from Hemlo near our operation. Next, we called on two experienced mine builders from LQ Consulting. Gord Lung was a senior engineer at SNC where he repaired a number of Kinross' mines, and Pierre Legare, also a former SNC employee, was among others the senior project manager at the large Cobre Panama copper mine. And we also brought in Paul Murphy, an engineer who spent the last few years at G Mining (who did most of our feasibility study) and before that he was in charge of projects at companies like Iamgold and Centerra.
(Click on the image to play the video)
To learn more, visit www.genmining.com.
FULL DISCLOSURE: This is a paid article produced by Stockhouse Publishing.